Middle Wing(Classes VI to VIII)
These classes are taken to be the stepping stone for higher education. The academic curriculum hence is designed to instill a healthy respect for hard work and to develop sound formal study skills. The students are prepared for the rigorous academic requirements of the senior school, they are encouraged to do individual and group work, and become independent .Public speaking is encouraged, along with independent research work, as such activities help the students to gain confidence and push their boundaries of knowledge even further. Stress is given to discipline and punctuality.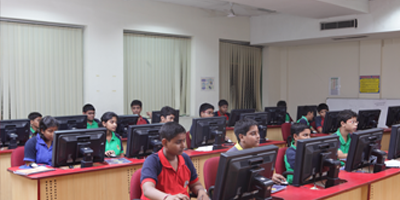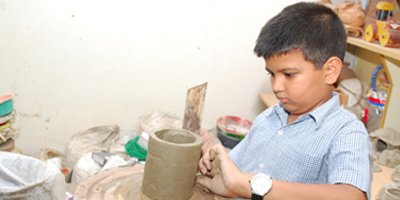 Subjects Taught:
English, Bengali, Hindi, Sanskrit, French, German, Computers, Mathematics, History and Civics, Geography, Physics, Chemistry and Biology.
Every week, the children get some specified time with their Class Teacher, called the 'Circle time'. The students here get to interact with the teacher, speak to her on issues concerning the class, school, state, country or the world. The class teacher tries to imbibe in the students moral values, group and team feelings through discussions, play acting and games.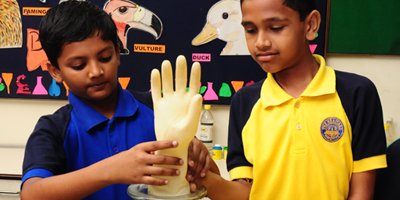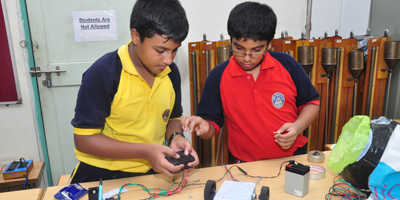 Daily Schedule
In the Middle School, every day the first 10 minutes are spent with the Class Teacher. (7:20am – 7:30am) Classes start at 7:30am and continue till 8:40am. Assembly/Circle Time (8:40am-9:05am) is followed by Breakfast (9:05am-9:25am).
Classes resume at 9:25am. Lunch is at 1:35pm and carries on till 2:10pm. From 2:15pm to 3:15pm, Activity, Games, Personality Development and Prep classes are held once a week for each class. Every Day 5, there are interclass or intra class competitions. Apart from these classes, Yoga, Swimming, Activity and Games are woven into the timetable with academic classes. The day ends with the Class Teacher Time from 3:15pm to 3:30pm.